Last Sunday was Mother's Day, wasn't it?  How did you thank your mother?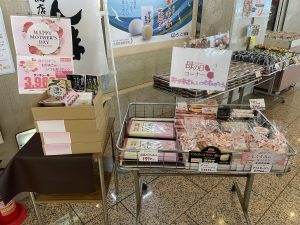 At the hotel shop, we have set up a Mother's Day gift corner from before Mother's Day to the check-out time at 10 am the next morning of Mother's Day.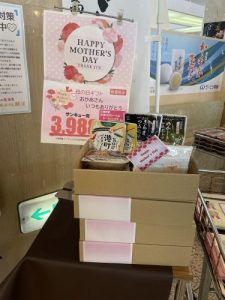 This is a "Thank you Mother Set" and the selling price is 3,988 yen. In Japanese, 39 is read as Thank you, 88 is read as Haha(Haha means Mother). It is a pun price !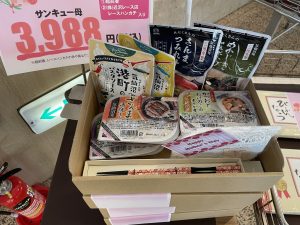 The contents are 6 kinds of fish side dishes and 2 kinds of sardine pasta sauce. One handkerchief and one Mother's Day card.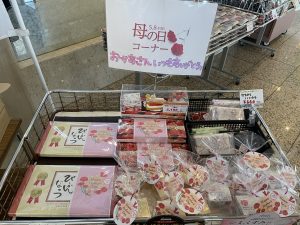 At Wagon, we sold pecan nuts, strawberry butter sand, handkerchiefs, and two types of moisturizing creams that mothers will be happy with.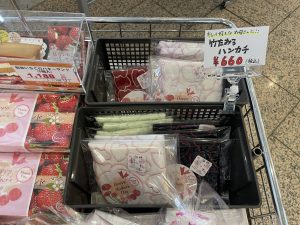 Bamboo fiber handkerchiefs with excellent deodorant, antibacterial and water-absorbent properties.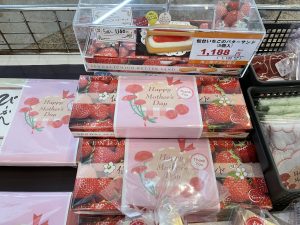 It is a popular strawberry butter sand that won the gold medal at the souvenir grand prix of the railway company.
Next year, if you stay with your mother and give them a present at our shop, it will surely be an unforgettable memory !
Good day ! from Minhong
Book us at;
" Kanyo channel " is being delivered ….
Please press "like(いいね!)" and subscribe to the channel.